WHY CHOOSE A SINGLE LUXURY HOME REALTOR WHEN YOU CAN REACH THE MARKET WITH A HUNDRED LUXURY HOME AGENCIES THROUGH US?
Within Baerz & Co, a select group of prestigious residential real estate agents join forces to reach your goal. Together, they offer you a unique high-quality network.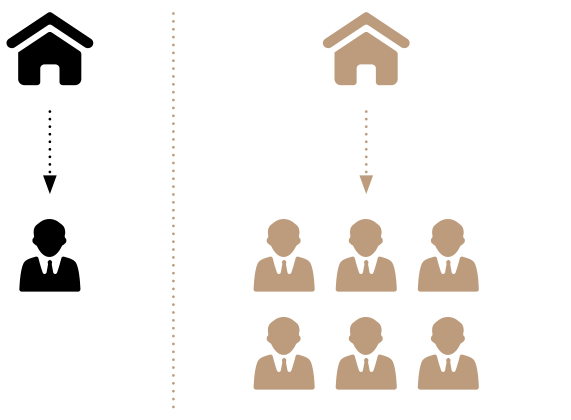 Which means that through us, you automatically engage all other Baerz & Co agents who are also dedicated to serving affluent clients worldwide, focused on exclusive apartments, urban homes, villas and country estates. Significantly optimizing your effectiveness. All for the same brokerage fee!
DOMESTIC SALES THROUGH CONSOLIDATION AND MEDIA EXPOSURE
When listing an exclusive house, your target group consists of affluent individuals. Traditional national marketing channels such as the Dutch housing site Funda.nl and/or an independent local real estate agency often prove insufficient. As a selected Baerz & Co partner, we can apply a pooled sales capacity. Which means that your property will not only be listed by us, but by all international Baerz & Co network partners.
Baerz & Co also continuously launches banner campaigns on Funda.nl, in addition to countless posts on social media platforms including LinkedIn, Facebook and Instagram. Your property will also be showcased on target group-specific websites such as www.Villadarte.nl and www.ExcellentMagazine.nl.
We also advertise with branding campaigns in the print editions of Kroymans Bespoke Magazine, Villa d'Arte, Excellent Wonen Magazine, Fd Persoonlijk and Quote magazine.
Naturally, your home will also be listed on The Netherlands' largest luxury home platform, www.baerz.com, in 8 major world languages.
IN SHORT:
In The Netherlands, your home will not only appear on Funda and our website, but can also be found via dozens of websites of our partner real estate agencies, the baerz.com portal and many other targeted online media channels.