WHY CHOOSE A SINGLE HIGH-END REAL ESTATE AGENT, WHEN YOU CAN DIRECTLY MARKET YOUR PROPERTY NATIONWIDE WITH A LARGE GROUP OF EXCLUSIVE AGENCIES?
At Baerz & Co a select group of prestigious Dutch residential real estate agents will join forces to realise your specific goals. Together, they offer you a unique national quality network.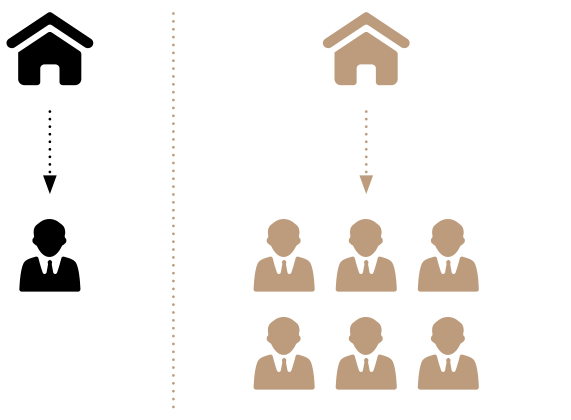 Through us, you automatically engage all other associated real estate agents dedicated to serving affluent individuals and offering exclusive apartments, town houses, villas and rural estates. This significantly increases your effectiveness. All for the same brokerage fee.
DOMESTIC SALES THROUGH CONSOLIDATION AND MEDIA EXPOSURE
When listing an exclusive house on the market, your target group consists of affluent individuals. Traditional national marketing channels such as the Dutch housing site Funda and/or an independent local real estate agency often prove insufficient. We are a selected Baerz & Co partner and have pooled our sales capacities - your property will not be offered by our office only, but by a large group of top agencies.
In addition to joining forces to market your property, we also launch advanced, continuous marketing campaigns. Think of terms as advertising pages, programmatic marketing, retargeting banners, social media, etcetera. This also includes utilization of channels including Linkedin, Facebook, Instagram, Google, Google Canvas, YouTube and selected (both print and online) Dutch media tailored to your target group such as Financiële Dagblad, Elsevier, Quote, De Financiële Telegraaf, Algemeen Dagblad, NRC, Volkskrant, NU.nl, NUzakelijk, Pure Luxe etcetera.
With regard to target group-oriented home media, we work exclusively with several market leaders such as Stijlvol Wonen and The art Of Living.
We also list your property on the largest luxury home portal in the Netherlands, www.baerz.com, in 7 major languages.
In effect, your home will not only be listed on Funda and our own website, but also on the websites of every one of our affiliated Baerz & Co real estate partners, the www.baerz.com portal and a wide range of online media channels.